Register for the AAMS V3 Full Version.
The AAMS software is freeware, with an encouragement that the user makes a registration to the Full Registered Version.
You can show your support and appreciation for AAMS and future development by registering.
To make full use of the AAMS Software Package by Registration, use the Registration page.
You can also use the AAMS Contact Page and ask for an invoice, be sure to add your own email adres.
Without any blocking of professional options, a registered and licensed user can make use of all AAMS V3 Functions!
Keycode Instructions :

Follow these instructions and Send us your Registration for a License!
You need to download AAMS (www.curioza.com) from the download page.
Then open the 'AAMS.zip' file and start 'AAMS V3 Setup.exe'.
When AAMS is fully installed, start AAMS.

Goto the - License - tab inside AAMS software to register.

(1) Fill in your username, just type any name you like (example 'Denis van der Velde') and Copy your Username and (2) Copy the Installcode.
Send your Username (1) and Installcode (2) back to This email address is being protected from spambots. You need JavaScript enabled to view it.

We will respond to your registration and payment by email with the corresponding keycode.

You have your username and installcode and you recieved the Keycode ?
Open AAMS Software, Fill in your username (1), for instance 'Denis van der Velde'  (Example use your own Username instead).
Fill in the Keycode (3) we have send you, for instance ' AAMS-XX-XX-XXX' (Example use your own Keycode instead).
Use the ' Registration' (4) button in the AAMS software About tab and follow instructions.
You are now a Registered and Full Professional AAMS user!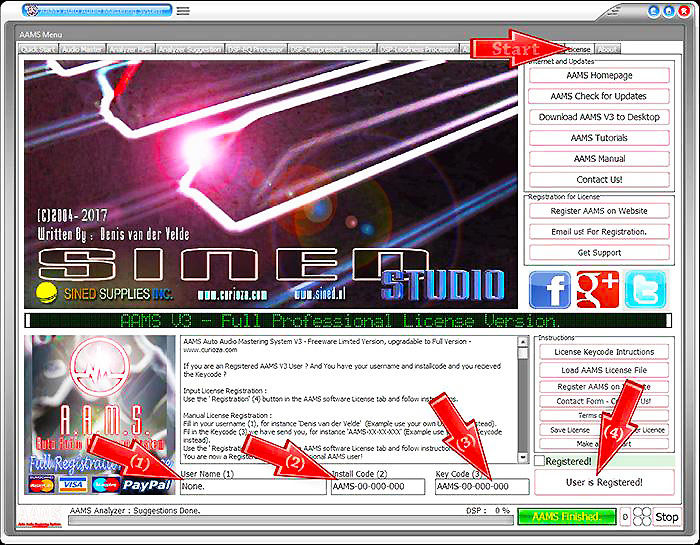 When you need a Keycode or need to send Username and Installcode, fill in the contact form.
(Please allow for PayPal to accept your payment and to receive a keycode for AAMS a maximum of 48 hours, mostly common is that for a payment to be made and a keycode is received there will be a delay of a few hours. Do not state a claim to paypal for this delay in the mean time)
Use the Contact Form for questions, reviews, registration requests (username and installcode) or music, mixing and mastering.
The AAMS Freeware Version works under WMWARE, the AAMS Registered Version will not create an Installcode so cannot be Registered.
We put a lot of effort into programming testing and development of AAMS. And we are still developing to make AAMS better.
So support AAMS by registering and having a Full Professional license.
 Thank you!
 AAMS
Denis van der Velde
Sined Supplies Inc.
www.curioza.com
Contact Form
AAMS Contact Form

*For Paypal Payments please allow some time for processing your payment, this can take up to a few hours for Paypal to process your payment.
After Payment you can directly pass your Username and Installcode, read for exact infomation to register AAMS by reading registration details or the registration page)