Register for the AAMS V3 Full Version.
The AAMS software is freeware, with an encouragement that the user makes a registration to the Full Registered Version.
You can show your support and appreciation for AAMS and future development by registering.
To make full use of the AAMS Software Package by Registration, use the Registration page.
You can also use the AAMS Contact Page and ask for an invoice, be sure to add your own email adres.
Without any blocking of professional options, a registered and licensed user can make use of all AAMS V3 Functions!
Keycode Instructions :

Follow these instructions and Send us your Registration for a License!
You need to download AAMS (www.curioza.com) from the download page.
Then open the 'AAMS.zip' file and start 'AAMS V3 Setup.exe'.
When AAMS is fully installed, start AAMS.

Goto the - License - tab inside AAMS software to register.

(1) Fill in your username, just type any name you like (example 'Denis van der Velde') and Copy your Username and (2) Copy the Installcode.
Send your Username (1) and Installcode (2) back to sales@curioza.com

We will respond to your registration and payment by email with the corresponding keycode.

You have your username and installcode and you recieved the Keycode ?
Open AAMS Software, Fill in your username (1), for instance 'Denis van der Velde'  (Example use your own Username instead).
Fill in the Keycode (3) we have send you, for instance ' AAMS-XX-XX-XXX' (Example use your own Keycode instead).
Use the ' Registration' (4) button in the AAMS software About tab and follow instructions.
You are now a Registered and Full Professional AAMS user!
When you need a Keycode or need to send Username and Installcode, fill in the contact form.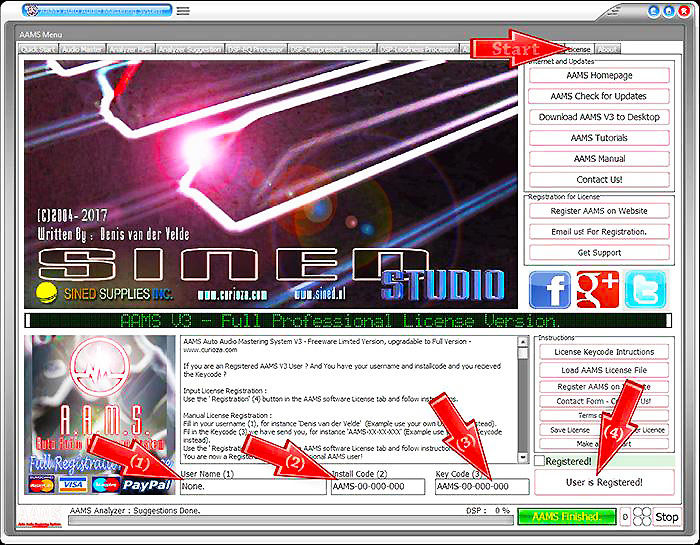 AAMS Contact Form

*For Paypal Payments please allow some time for processing your payment, this can take up to a few hours for Paypal to process your payment.
After Payment you can directly pass your Username and Installcode, read for exact infomation to register AAMS by reading registration details or the registration page)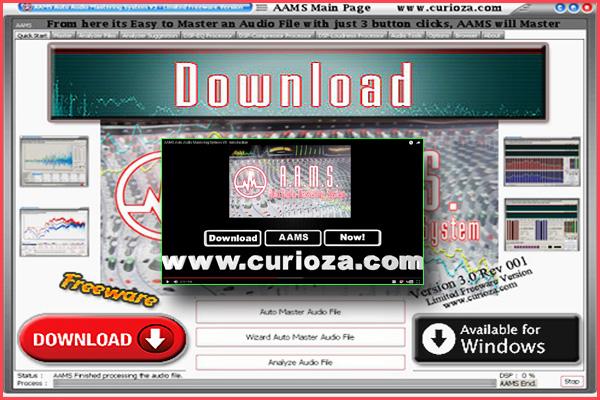 Download AAMS Auto Audio Mastering System V3 Version for Windows! Audio Master any audio file and hear your music with sound mastered to commercial audio quality! And that all automatically! Test your audio mixes or audio files against a database of 200+ commercial references of genres and styles. AAMS is easy to install and is easy to use! Have some fun and a good time audio mastering. Download Now!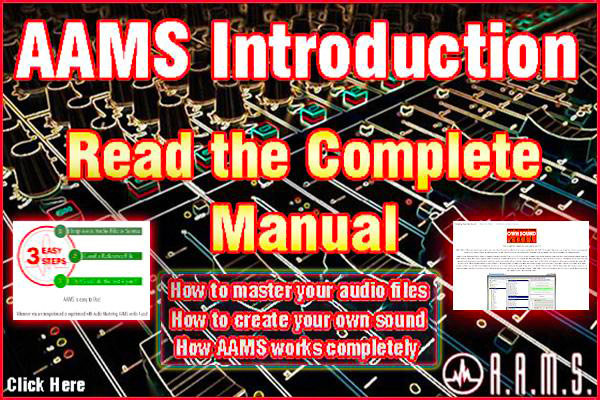 ->> AAMS V3 - Introduction Manual <<--
Here you can find and read all information about AAMS. In the First Start section you can read how easy it is to audio master your audio tracks with AAMS!

How to create your own Sound! The AAMS Introduction Manual explains about the 3 main steps inside. What is represented in all those charts, sheets, grids and texts, values, etc. How to compare music against each other. How to improve your mix. References can be made out of any audio file or any collection of audio files! You can copy, paste and use other audio material for your own mastering purposes. Like from bands artists to input into AAMS and create an unique Reference to represent your musical style! Then use the Reference file to master all your music against with AAMS! All with just a few button clicks.