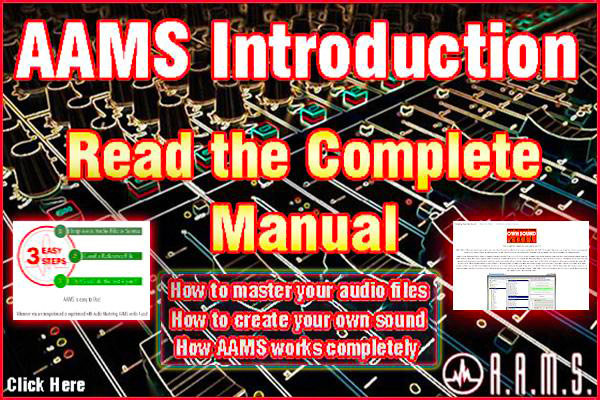 ->> AAMS V3 - Introduction Manual <<--
Here you can find and read all information about AAMS. In the First Start section you can read how easy it is to audio master your audio tracks with AAMS!

How to create your own Sound! The AAMS Introduction Manual explains about the 3 main steps inside. What is represented in all those charts, sheets, grids and texts, values, etc. How to compare music against each other. How to improve your mix. References can be made out of any audio file or any collection of audio files! You can copy, paste and use other audio material for your own mastering purposes. Like from bands artists to input into AAMS and create an unique Reference to represent your musical style! Then use the Reference file to master all your music against with AAMS! All with just a few button clicks.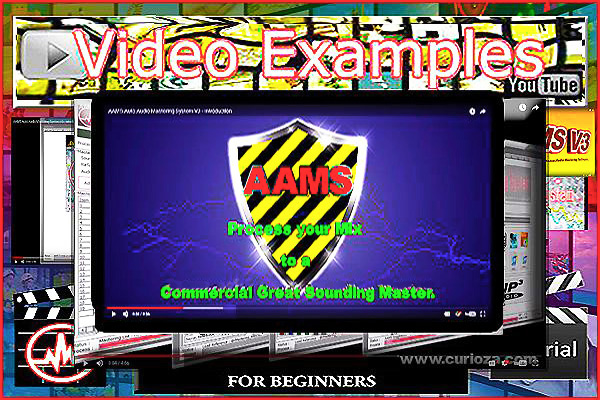 AAMS V3 - Video Tutorials Page
All promotional and tutorials / demonstration Video's about AAMS with tips and tricks for getting the most out of AAMS Software. Learn to use AAMS features step-by-step or hear audio that has been mastered with AAMS. Learn to do Audio Mastering with AAMS easy and fast for yourself! How to use the Database of References and Presets as a musical oppenent to your own music. Learn how to create your own sound!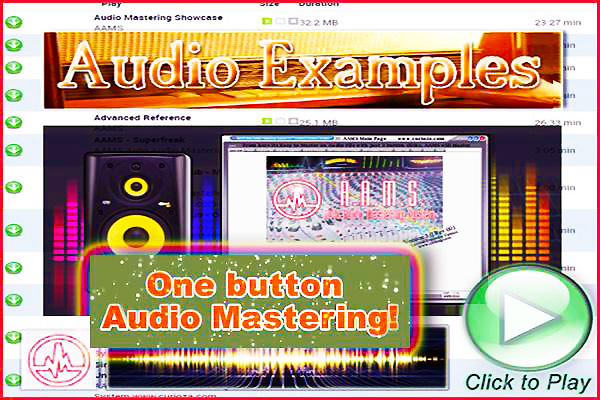 AAMS V3 - Audio Mastering Examples Page
AAMS Mastered Audio Files! Listen AAMS V3 what can do as an Audio Mastering Tool. You can listen and download the files directly. The original audio files where not changed and are as found. These audio examples are mastered with AAMS Auto Audio Mastering System, Everything is done automatically and the audio files where not altered in any way or fashion. Listen now for the AAMS Audio Examples!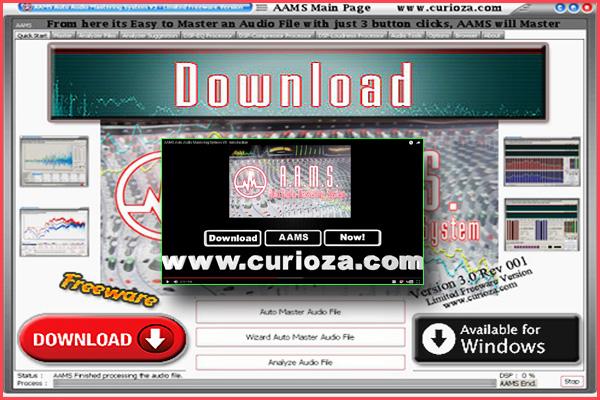 Download AAMS Auto Audio Mastering System V3 Version for Windows! Audio Master any audio file and hear your music with sound mastered to commercial audio quality! And that all automatically! Test your audio mixes or audio files against a database of 200+ commercial references of genres and styles. AAMS is easy to install and is easy to use! Have some fun and a good time audio mastering. Download Now!